I start the new year honoring another hero: Ursula Le Guin. Writer, wise woman, crone, she is definitely one of my heroes. She's won a National Book Award, the Kafka Award, five Hugos, five Nebulas, a Newberry, a Jupiter, a Gandalf, and that does not include all her awards. She's also published sixteen novels, and if I've counted correctly, ten collections of stories. How's that for a body of work? How's that for someone true to herself and someone who deeply honors her craft?
It's the wise woman/crone aspects of her work that makes me and so many others love her. In Cathleen Rountree's book, On Women Turning 60, Rountree writes of Ursula K. Le Guin: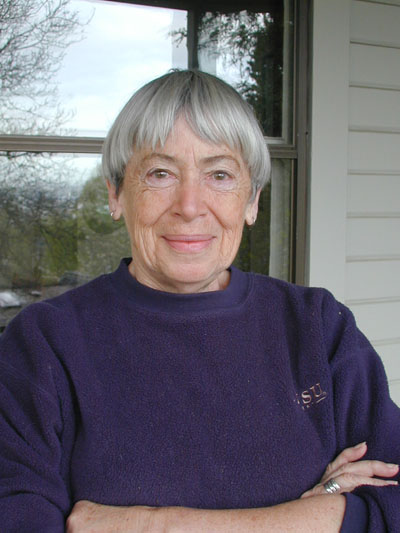 "In Ursula's fascination with perceiving and describing 'reality' through realism, surrealism, magic realism, and fantasy, she often uses a multiple voice or mythic voice, because as she explains, 'reality is a slippery fish that often can be caught only in a net of spells with the hook of metaphor.'"
In a commencement address at Bryn Mawr college in 1986, (twenty-eight years ago—and yet society hasn't changed all that much) Le Guin spoke of women and how, "They have let themselves be silence, and dimly they know it, and so resent speakers of the mother tongue…."
Willow, in my novel, The Farthest House, realizes this as well. In a dangerous situation and afraid, she longs to contact Clay, her lover, for help. "…but calling him wasn't what she wanted of their relationship. She wanted a lover and a partner, not to put her fate in his hands, not to commit herself to spending her life on the small pallet of his palms."
Le Guin's speech at Bryn Mawr is long, I'm only giving you a few of its gems. I encourage everyone to read the speech in its entirety in Le Guin's book, Dancing at the Edge of the World. She says near the end: "When you look at yourself in the mirror, I hope you see yourself. Not one of the myths. Not a failed man […] and not a failed goddess, a person desperately trying to hide herself in the dummy Woman, the image of men's desires and fears. I hope you look away from those myths and into your own eyes, and see your own strength. You're going to need it. I hope you don't try to take your strength from me, or from a man. Second hand experience breaks down a block from the car lot. I hope you'll take and make your own soul; that you'll feel your life for yourself pain by pain and joy by joy […]."
More on Le Guin soon…
Happy New Year!